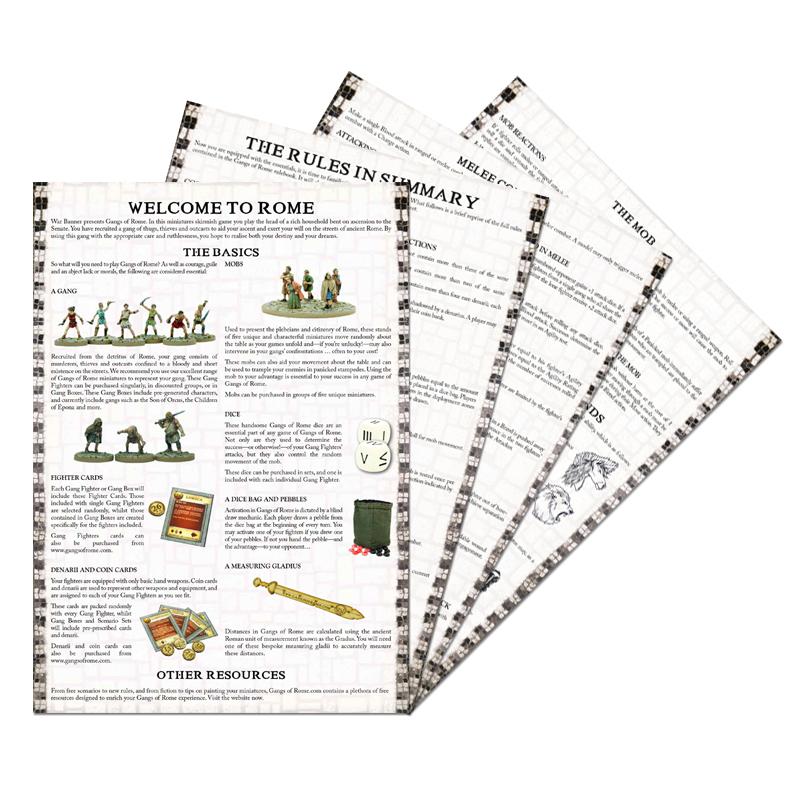 Welcome to Rome - a digital summary of Gangs of Rome PDF
$0.00
Current version: RPV1.0
A four-page guide to Gangs of Rome! Serving as both an introduction to this magnificent game and a quick reference guide, this full-colour masterpiece is 100% free to download.
Written by chief writer Adam L. Dobbyns with Andy Hobday, based on a concept by Darren Evans, Gangs of Rome is an innovative skirmish game set in the bloody and violent streets of Rome.
Inspired by the history of the great city, Gangs of Rome takes place in the shadows of the Empire where the heads of ambitious houses have gathered fighters forged hard by the streets to do their bidding and enact their schemes.

As a Dominus, the head of a house of Rome, you will seek out the most brutal of Romes criminal denizens, plying them with the promise of wealth and glory should they aid you in your plan to rise to the Senate of Rome and cast down all enemies before you.

Closing about you like a ring of steel your gang will arm themselves and take to the streets and alleyways of the city, advancing your interests and crushing your foes.
Your strategies mixed with their savagery, mind and sword as one as you carve your name across the very pages of history.

This is your story, a tale wrought by your hand; you will rise on the backs of your fighters, gaining power and influence enough to change not only your future but that of Rome herself.

Recruit. Dominate. Ascend.

This is Gangs of Rome.
An innovative 28mm Skirmish game for the sharp of mind and bold of action.

Welcome to Rome Dominus.