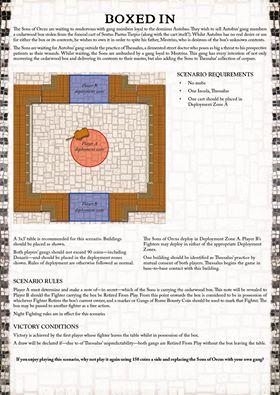 Scenario 11 - Boxed In
$0.00
The Sons of Orcus are waiting to rendezvous with gang members loyal to the dominus Autobus. They wish to sell Autobus' gang members a cedarwood box stolen from the funeral cart of Sextus Paetus Turpio (along with the cart itself!). Whilst Autobus has no real desire or use for either the box or its contents, he wishes to own it in order to spite his father, Mestrius, who is desirous of the box's unknown contents. The Sons are waiting for Autobus' gang outside the practice of the street doctor Thessalus.
Whilst waiting, the Sons are ambushed by a gang loyal to Mestrius. This gang has every intention of not only recovering the cedarwood box and delivering its contents to their master, but also adding the Sons to Thessalus' collection of corpses.
This scenario is a sequel to the Sons of Orcus story Underworld, as available to read on our Articles page. 
This is a FREE scenario for you to download and play; please let us know whether or not your enjoyed it in the Gangs of Rome Facebook Group.