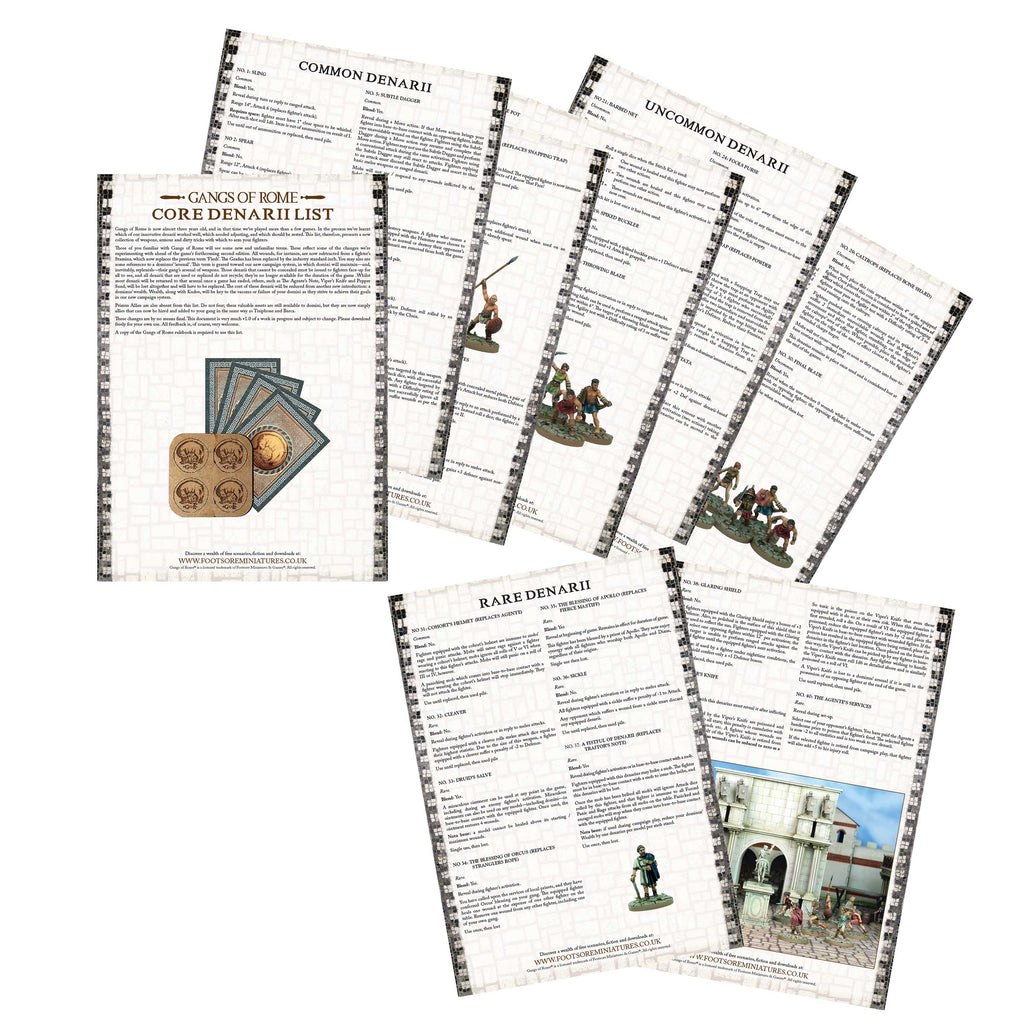 GoR Core Denarii List FREE PDF
$0.00
Gangs of Rome is now almost three years old, and in that time we've played more than a few games. In the process we've learnt which of our innovative denarii worked well, which needed adjusting, and which should be rested. This list, therefore, presents a modified collection of weapons, armour and dirty tricks with which to arm your fighters.

Those of you familiar with Gangs of Rome will see some new and unfamiliar terms. These reflect some of the changes we're experimenting with ahead of the game's forthcoming second edition.
• All wounds, for instance, are now subtracted from a fighter's Stamina, which now replaces the previous term 'Flesh'.
• The Gradus has been replaced by the industry standard inch.
• You may also see some references to a dominus' 'arsenal'. This term is geared toward our new campaign system, in which domini will maintain—and, inevitably, replenish—their gang's arsenal of weapons.
• Those denarii that cannot be concealed must be issued to fighters face-up for all to see. 
All denarii that are used or replaced do not recycle; they're no longer available for the duration of the game. Whilst most denarii will be returned to that arsenal once a game has ended, others, such as The Agente's Note, Viper's Knife and Pepper Sand, will be lost altogether and will have to be replaced. The cost of these denarii will be reduced from another new introduction: a dominus' wealth. Wealth, along with Kudos, will be key to the success or failure of your domini as they strive to achieve their goals in our new campaign system.

Primus Allies are also absent from this list. Do not fear; these valuable assets are still available to domini, but they are now simply allies that can now be hired and added to your gang in the same way as Tisiphone and Barca.

These changes are by no means final. This document is very much v1.0 of a work in progress and subject to change. Please download freely for your own use. All feedback is, of course, very welcome.

A copy of the Gangs of Rome rulebook is required to use this list.
This PDF is free for you to download and play. Please let us know how you found it in the Gangs of Rome Facebook Group.