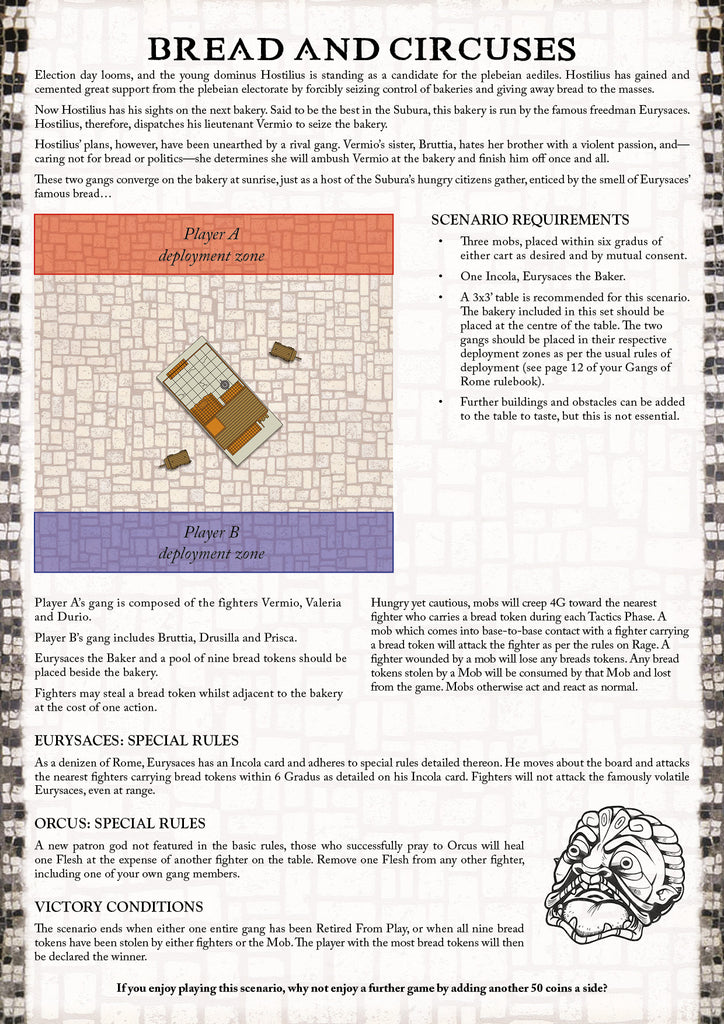 Scenario 13 - Bread and Circuses
$0.00
Election day looms, and the young dominus Hostilius is standing as a candidate for the plebeian aediles. Hostilius has gained and cemented great support from the plebeian electorate by forcibly seizing control of bakeries and giving away bread to the masses. Now Hostilius has his sights on the next bakery. Said to be the best in the Subura, this bakery is run by the famous freedman Eurysaces. Hostilius, therefore, dispatches his lieutenant Vermio to seize the bakery.
Hostilius' plans, however, have been unearthed by a rival gang. Vermio's sister, Bruttia, hates her brother with a violent passion, and—caring not for bread or politics—she determines she will ambush Vermio at the bakery and finish him off once and all. These two gangs converge on the bakery at sunrise, just as a host of the Subura's hungry citizens gather, enticed by the smell of Eurysaces' famous bread…
This is a FREE version of the scenario you receive in the Bread & Circuses boxed set for you to download and play; please let us know whether or not you enjoyed it in the Gangs of Rome Facebook Group.